Program Overview
The Natural Resources Department conducts environmental education and outreach programs for members in a variety of formats. Throughout the year you will find Natural Resources staff conducting workshops, open houses, presentations, field programs or at local events with exhibits, displays, and hands-on-activities.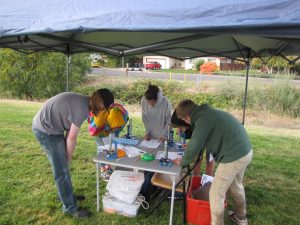 Natural Resources staff discuss the importance of clean water, types and causes of water pollution, how local communities are working to protect and improve water quality and watershed health, how you can help at home, and other topics. Key messages include:
The connection of storm drains to creeks ("what goes into the storm drain goes into the creek"),
How creeks are connected to the Rogue River and eventually the Pacific Ocean,
Salmon are present in local streams and rivers and have maintained healthy populations despite the urbanization and pressure on resources,
How local waterways (e.g. Bear Creek) are improving,
The goal of making all waters swimmable and fishable, and
Finally, discussing actions that people can take at home to help protect streams and wetlands, reduce pollution, conserve water, use fewer chemicals (herbicides and pesticides) and instead use non-toxic alternatives, clean up after pets, plant trees, and use phosphate-free soaps or take cars to a car wash.
The Education and Outreach programs support the Bear Creek and Rogue Basin TMDL programs, the Bear Creek NPDES Phase II Stormwater Program, Riparian Restoration, and other programs.
Regional Programs
Salmon Watch Program
The program is coordinated by RVCOG and Rogue Valley Sewer Services (RVSS). Information on the program can be found on the Stream Smart website.
Below is a link to a Salmon Watch video produced by volunteer videographer, Ralph Bowman.
http://www.youtube.com/watch?v=XQeVouErtks&feature=c4-overview&list=UUM1cVIL9V8HH0TJhEq4zfHw
Salmon Watch Instructor Training Videos:
Check out our Geocaches! 
Geocaching is a real-world outdoor treasure hunting game. Players try to locate hidden containers, called geocaches, using GPS-enabled devices and then share their experiences online. Click here to visit the website.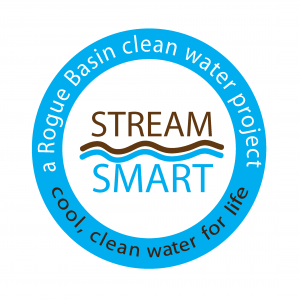 Stream Smart is an outreach campaign designed to raise awareness of water quality issues in the Bear Creek Watershed and to promote behavior changes among individuals and businesses. The intent of this effort is to create a unifying and recognizable brand and message for outreach material that the citizens of the Bear Creek Valley can connect with – one that can be used across city and agency jurisdiction to enhance outreach efforts. By combining our efforts and supporting other partners' work, we can be more effective and fiscally efficient in meeting outreach and education goals. Project partners include RVCOG, the Rogue River Watershed Council, the Jackson Soil and Water Conservation District, RVSS, North Mountain Park, the Bear Creek Watershed Education Partners, the Oregon Department of Environmental Quality, and Oregon State University (OSU).
Go Blue!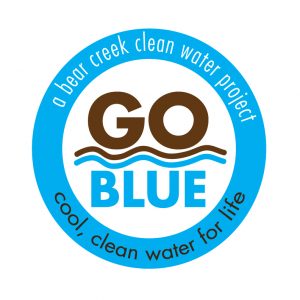 Go Blue! will be the inaugural campaign under the Stream Smart program. The campaign will focus on what the community can do to improve water quality conditions and help turn Bear Creek into a community resource. Stay tuned for more information!
For More Information, Contact:
Greg Stabach, Natural Resources Program Manager, (541) 423-1370