Wildfire Recovery Assistance for Oregon Program 
Recently the BCRI submitted a Letter of Interest to the Wildfire Recovery Assistance for Oregon Program for technical assistance to help develop a guiding document (technical assistance plan) that outlines the current conditions (a year after the fire), describes a goal for the Bear Creek corridor, and outlines the steps needed to approach the goal including recommended methods for achieving desired future conditions, projected costs, timelines, and outreach strategies. The plan would compile work completed, identify priorities for restoration along the Bear Creek corridor, and develop a range of vegetation management actions that address restoration, recreation, public safety, the unhoused population, and other necessary elements. Such a plan would help the entities working on vegetation management allocate scarce resources.
In mid-November 2021, BCRI members were notified that their request was selected to received technical assistance from FEMA/EPA.  Contracts were awarded in April 2022 and a kick off meeting was held in early May.
Wings Across Americas Program Funding
A partnership with Western Monarch Advocates in a statewide effort to include pollinator-friendly nectar and host plants within restoration work. This development may bring milkweed and other pollinator plants to Rogue Valley restoration sites designed in "pollinator waystations", encouraging monarchs, bees, and other species to thrive!
To learn more about these efforts, see:
Deschutes Land Trust, Western Monarch Advocates Partner to Boost Butterfly Habitat
Deschutes Land Trust to Partner in Statewide Effort to Aid Imperiled Western Monarch Butterflies
As part of this program we are currently prioritizing serval sites along the Greenway from Ashland through Medford.  We are working with local nurseries to identify needs and grow milkweed and other species for planting in 2022 and beyond.  If you are interested in developing your own pollinator garden, there are a number of great resources including this guide (click on the picture to go to a PDF version):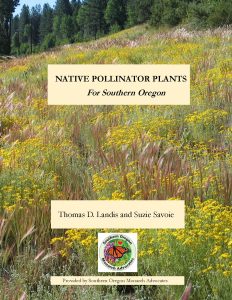 We have identified 7 priority areas for pollinator habitat improvement and/or pollinator gardens.  For a site list click here (link to be updated).
Two pollinator gardens plantings are underway.  One is located at the Medford Sports Park and was planted in conjunction with the SOLVE community clean-up in April.  The other is located in Blue Heron Park and will be planted in mid-May.
Working Groups
Several groups have started meeting and completing specific tasks in addition to the monthly technical team meetings.
Pollinator Habitat
Restoration
Stakeholder Engagement
Governance/Structure Team