Programs Overview
The Natural Resources Department conducts environmental education and outreach programs on behalf of our members in conjunction with the assistance of partners.  Throughout the year you will find Natural Resources Department staff conducting workshops, open houses, presentations, field programs or at local events with exhibits, displays, and hands-on-activities.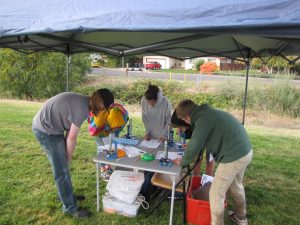 Natural Resources staff discuss the importance of and need for clean water, types and causes of water pollution, what you can do to help, stream restoration, how to manage stormwater and urban runoff, watershed health, and other topics. We discuss how pollution is generated and the problems it causes to natural areas like creeks, rivers, lakes and wetlands. Then we help people understand fundamental concepts including the local connection of storm drains to creeks ("what goes into the storm drain goes into the creek"), to regional connections of local creeks to the Rogue River and eventually the Pacific Ocean. And finally, we discuss actions that people can take at home to help protect streams and wetlands and reduce pollution including conserving water, using fewer chemicals (herbicides and pesticides) or non toxic alternatives, cleaning up after pets, planting trees, and using phosphate free soaps or taking cars to a car wash. We also describe what communities are doing to clean up local streams and protect our watersheds.
The Education and Outreach programs support the Bear Creek and Rogue Basin TMDL Programs, the Bear Creek NPDES Phase II Stormwater Program, Riparian Restoration, and other programs.
Regional Programs
Salmon Watch Program
The program is coordinated by the Rogue Valley Council of Governments and Rogue Valley Sewer Services. Other partners on the project included the Bear Creek Watershed Education Partners, the Rogue River Watershed Council (RRWC), Jackson Soil and Water Conservation District, the Freshwater Trust, Oregon Department of Fish and Wildlife, t he Rogue Basin Partnership (RBP), Rogue Valley Sewer Services, Central Point, Medford, Phoenix, Talent, Ashland, and Jackson County.
Funding provided by the Carpenter Foundation was used to re-establish the Salmon Watch Program in the Rogue Valley in the Spring of 2014 with in-kind support provided by the Stormwater and TMDL programs and local partners. Funding for the program since 2014 is provided by local communities through their TMDL and NPDES Phase II implementation programs, through funding received from Jackson Soil and Water Conservation District's grant programs, and donation of time from partners.  The program provides opportunities for students from schools in Ashland, Talent, Medford, Central Point, and Medford to learn about salmon and water quality in the Rogue Basin. The Salmon Watch program provides a field based hands on learning program connecting kids to the creeks through a series of lessons focused on Salmon Biology and Salmon Life Cycles, Water Quality, Aquatic Macroinvertebrates, and Riparian Ecosystems.
Below is a link to a Salmon Watch video produced by volunteer videographer, Ralph Bowman.
http://www.youtube.com/watch?v=XQeVouErtks&feature=c4-overview&list=UUM1cVIL9V8HH0TJhEq4zfHw
Resource Links/Community Resources

Garden-Worthy Native Trees and Shrubs
Take this survey! Bear Creek Water Quality Survey
Take this survey! Rogue Basin Water Quality Survey
Check out our Geocaches! 
Geocaching is a real-world outdoor treasure hunting game. Players try to locate hidden containers, called geocaches, using GPS-enabled devices and then share their experiences online. http://www.geocaching.com/default.aspx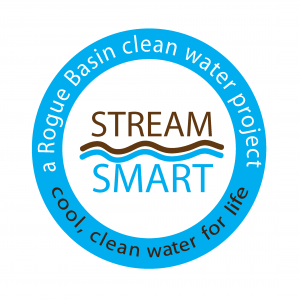 Stream Smart is an outreach campaign designed to raise awareness of water quality issues in the Bear Creek Watershed and to promote behavior change among individuals and business. The intent of this effort is to create a unifying and recognizable brand and message for outreach material that the citizens of the Bear Creek valley connect with – one that can be used across city and agency jurisdiction to enhance outreach efforts. By combining our efforts and supporting other partners work we can be more effective and fiscally efficient in meeting outreach and education goals. Project partners include the Rogue Valley Council of Governments, the Bear Creek Watershed Council, Jackson Soil and Water Conservation District, North Mountain Park, the Bear Creek Watershed Education Partners, the Oregon Department of Environmental Quality, and O.S.U.
Go Blue!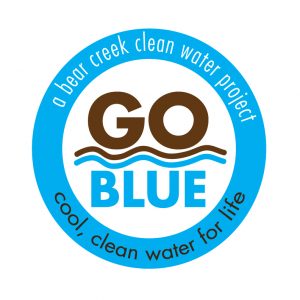 Go Blue! will be the inaugural campaign under the Stream Smart program. The campaign will focus on what the community can do to improve water quality conditions and help turn Bear Creek into a community resource. Stay tuned for more information!
For more information on the Stream Smart Program or Go Blue! contact:
Greg Stabach, Natural Resources Program Manager RVCOG, (541) 423-1370
Stream Friendly Landscaping and Yard Care
Images courtesy of ThinkBlueMaine.org Yardscape! program.
Fact Sheet Link from ThinkBlueMaine.org.
Stormwater 101 – Information from RVCOG's website that covers the basics of Stormwater including what it is, impacts, and links to resources and information.
Love Your River (Oregon Environmental Council – includes the Rogue River)
50 Ways to Love Your River Brochure – Link to request one from OEC
Washington State University's Plant Finder – Click Here
Sprout (Sustainable Plant Research and OUTreach Center)
Portland Bureau of Environmental Services
Internet Resources
The following list includes a number of Internet resources containing a wide variety of information, from slide shows to checklists. A brief description of each site's content is included with the web address.  Information excerpted from DLCD's Water Quality Model Code and Guidebook.
Oregon Association of Clean Water Agencies
Oregon Department of Environmental Quality
http://www.deq.state.or.us/
Web site for DEQ includes information on water quality rules and regulations and a list of all water quality limited streams [the 303(d) list].
Oregon Department of Land Conservation and Development
http://www.lcd.state.or.us/
Includes information on the state land use planning program, including links to the state land use goals and implementing administrative rules.
The Oregon Department of Fish and Wildlife
http://www.dfw.state.or.us
Web site for ODF&W includes information on stream flow restoration priorities, habitat policy and policy changes and links to the Bull Trout program.
The Oregon Plan for Salmon and Watersheds
http://www.oregon-plan.org/
The goal of the Oregon Plan is to restore populations and fisheries to productive and sustainable levels that will provide substantial environmental, cultural, and economic benefits. The site includes information on salmon restoration efforts and watershed health.
Environmental Protection Agency – Nonpoint Source Pollution
http://www.epa.gov/owow/NPS/
Includes information on education, EPA programs, outreach and funding opportunities.  Also includes links to other EPA web sites such as the NPDES Stormwater Phase I and II Program and the Drinking Water Protection Program.
National Marine Fisheries – Northwest Region
http://www.nwr.noaa.gov/
Latest information on endangered species listings, including 4(d) rules and A Citizen's Guide to the 4(d) Rule For Threatened Salmon and Steelhead on the West Coast, an excellent primer on the 4(d) rule.
US Fish and Wildlife Service
http://endangered.fws.gov
Direct link to the Endangered Species Program of USF&W.
Watershed Professionals Network
http://www.watershednet.com/
Watershed Professionals Network is an association of natural resource consultants in the Pacific Northwest. The web site includes a copy Oregon Watershed Enhancement Board's Oregon Watershed Assessment Manual (1999).
Nonpoint Education for Municipal Officials
http://www.lib.uconn.edu/CANR/ces/nemo/
NEMO is a University of Connecticut Cooperative Extension System project using innovative techniques to teach local officials about the sources and impacts of nonpoint source (NPS) pollution, how different land uses affect water quality, and what towns can do to protect water quality. A slideshow explaining the land use and water quality connection is available for download for free at the site.
Terrene Institute
http://www.terrene.org/index.htm
Established in 1990 as a not-for-profit, nonadvocacy organization, the Terrene Institute works with business, government, academia and citizens to protect our environment and conserve our natural resources. Education and public outreach comprise the cornerstones of the Terrene Institute, which assembles the best minds and expertise to provide accurate information – and presents this information in attractive, understandable, usable formats.
Terrene has established a reputation for offering balanced, credible information in ways that inspire learning, the hallmark of excellence in communication.  This site provides a nonpoint source projects database, and extensive links to other water quality sites.
Center for Urban Water Resources Management at the University of Washington
http://depts.washington.edu/~cuwrm/
The Center for Urban Water Resources Management is an interdisciplinary research center at the University of Washington, whose mission is to develop new and more effective ways for managing the consequences of land development on the Pacific Northwest's water resources through applied research.
Center for Watershed Protection
http://www.cwp.org/
Founded in 1992, the Center for Watershed Protection works with local, state, and federal governmental agencies, environmental consulting firms, watershed organizations, and the general public to provide objective and scientifically sound information on effective techniques to protect and restore urban watersheds. This site includes a zoning code worksheet to rate local development code for water quality provisions.
For More Information Contact:
Greg Stabach, Natural Resources Program Manager, (541) 423-1370