Healthy Aging
We provide services that maintain or improve health.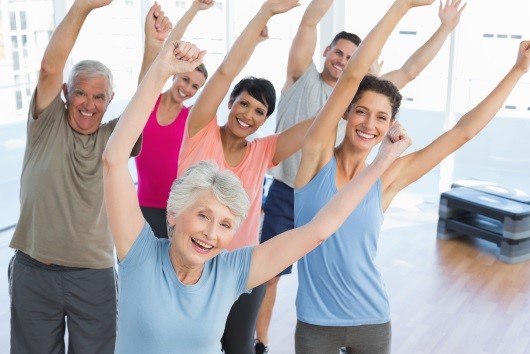 Food & Friends is the only Meals on Wheels program serving Jackson and Josephine Counties.
We deliver meals to the homes of seniors who are unable to shop or prepare meals due to illness, injury, or disability.   Meals are also available for eligible adults with disabilities.
In addition to the meals we serve, our service provides vital social contact and a regular safety net check to recipients of our meals.
Our volunteer drivers deliver more than 16,000 meals each month to individuals living independently at home, who, for health reasons, cannot make their own meals.
An additional 3,000 meals are served each month at our 12 congregate senior dining sites with the help of our volunteers.
We typically serve over 235,000 meals to approximately 3,000 people in Jackson and Josephine Counties each year. More information here
Our 6-week Living Well workshops, led by certified peer trainers, build self-management skills to better deal with chronic pain, chronic conditions, and diabetes. This evidence-based program was developed by Stanford University. Spanish versions for chronic conditions and diabetes are also available. More information here.
PEARLS (Program to Encourage Active Rewarding LiveS) is a research-validated treatment program for seniors with mild depression offered in Jackson County. It is a no-cost, in-home counseling program that teaches behavioral techniques to improve problem-solving skills, increase social and physical activity, and encourage the scheduling of pleasurable activities.
The REACH OUT program was created as an innovative solution to specific gaps facing older adults and people with disabilities who are experiencing behavioral health challenges. The needs of our older adult and people with disabilities populations are considered by providing in-home clinical services and by utilizing comprehensive assessment tools that can assist each individual.
This program offers a range of services to support any caregivers. Service Coordinators provide information about available resources and assistance with referral to respite care, caregiver training, support groups, and supplemental services. There are no fees for the services, though donations help to serve more people.   More information here
The STAR-C program assists family caregivers living with someone with Alzheimer's or related dementia who are feeling frustrated, depressed or anxious by helping them deal with challenging or difficult behaviors. The program is delivered over a 6-month period by community clinicians. The consultant meets with a family caregiver in the caregiver's home once a week for eight weeks for about an hour with homework assignments given in between sessions. After the sessions end, the clinician follows up with a monthly phone call for four months.